As much as an equestrian would want, it is impossible to be on the ground riding a horse 24/7. But, the constant charm of it never dies. This is why we have an entire world filled with the best online horse games for you to enjoy even when your horse is too exhausted to give you a good ride.
These online horse games will give you a realistic and fun experience. You can even use these games to learn how you can improve your real horse's life. Look after your horse, explore different breeds, fulfill challenges, and live your horse-owning life to its fullest with the help of these well-designed horse games!
If this sounds like something you will enjoy, keep reading till the end to find more out the best free games online for horse lovers!
Best Online Horse Games 
Whether you're interested in horse games for kids or adults, this list has detailed reviews for all sorts of options. Go through the list to figure out which game you want to start with.
Star Stable has got to be one of the most famous online horse games. It is a Massively Multiplayer Online game, or MMO. The game allows you to either compete on your own or join a club. Either way, the better you play, the more you progress in terms of horse abilities and accessories.
You start with one horse, but, as you progress, the options for multiple horses from different breeds increase. Some of the available breeds in the game include Akhal-Teke, Appaloosa, Morgan, Curly Horse, Mustang, Welsh Pony, and many more. For those who love to get a little creative, some fictional horse breeds are also added to the gameplay. Speed, outfits, land, gear, and equipment increase and improve as you move forward. 
Star Stable is a versatile game in terms of being age-appropriate. It is designed for anyone above 7 years of age. The best thing about this game is that while it's suitable for a little child, it is also adventurous enough for an adult. 
The best thing about this online horse game is that it's free up to level 5! After that, you can still continue to play. However, you won't get access to more land. You can play as much you like till level 5 before you decide whether or not the game is worth investing in. It is available for PC and Mac, and a mobile version is expected soon too!
Howrse is as realistic as a horse game could get. You'll learn realistic horse management with Howrse. It's a French game available online, through browser play, and also as a mobile application. 
Depending on what you prefer, you become a horse breeding farm owner or an equestrian center owner. As the game progresses, you get to own more additional items to improve your farm, center, and horse.
Just like in real life, you breed, maintain, and show your horses. From food and water intake to the horse's energy levels, everything is pretty similar to what a real horse owner would experience. The horse's emotions and morale in the game are realistic as well. After a long day of training, the horse needs to sleep.
The day goes on in a very similar manner as a real day. Time constraints are realistic too. This also makes the game more interesting since you cannot binge play to finish off the game in one day. However, certain paid features provide the option to binge.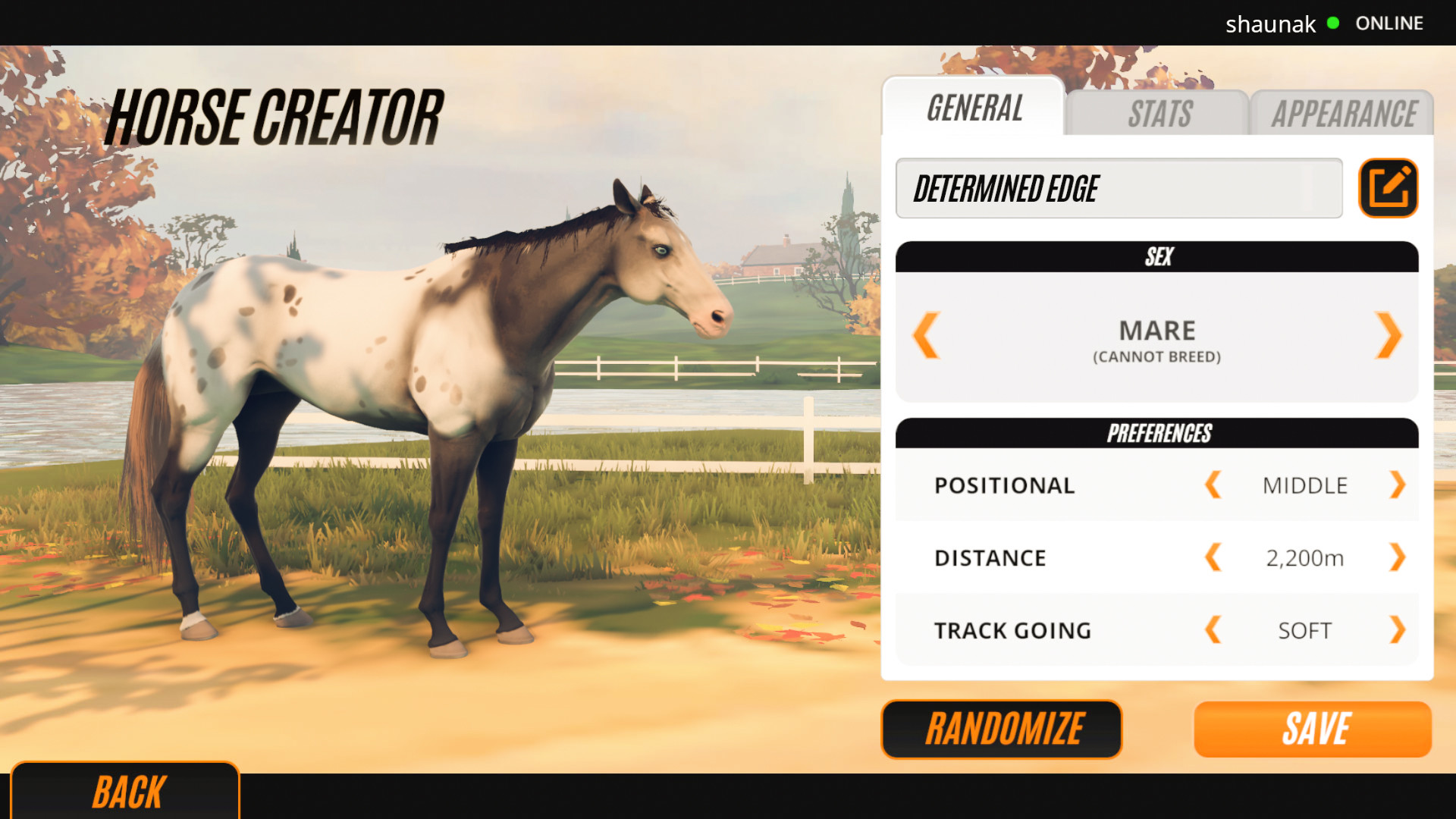 This game is the ultimate breeding, training, and racing place in the virtual world. As in the real world, you have to keep an eye out for the perfect horse to buy, for breeding purposes. Access the characteristics of the breeds to get your hands on the most unique horse. All of this is important so that you can sell your horses later on.
Other than that, you have to focus on the training. The game even has the option to hire a trainer for unmatched horse expertise. Lastly, the racing with high-quality graphics is more thrilling than in any other game. You may ride the horse yourself or hire a jockey.
On top of all these amazing game features, you have the option of additional upgrades too. These include better training facilities, more horse stables, etc.
Rival Stars Horseracing is a free online game. However, there is the option of in-game purchases for additional features. Download the game on your PC to play without any limitations!
A game with a wide variety of tasks is what Riding Club Championship is. You mainly have to groom your horse and build courses for competitions. Other than taking part in the competitions, players can also become judges. Things like obstacle courses, gear collections, and equipment variety add interest to the game.
The game is available on PC as well as Mac. The best part is that it is a completely free game. What's even better is that, unlike most online free games, this one actually offers decent gameplay even without any in-game purchases.
You only get to play with a single horse instead of the choice between multiple ones. There aren't any breed options either. Every player gets the same, common horse. While this may sound boring to some, it is also a great thing for players who only want to focus on the tasks in the game instead of the charm of the outer beauty of the game horse.
Similarly, there are only three competition locations. If you're someone who wants a constant change of background and environment as the game progresses, you might be disappointed by this lack of features.
All these points make the Riding Club Championship ideal for kids around the age of 10 years. However, older players must not hesitate to give this relaxing game a go!
Don't skip this game with the stereotypical mindset that a Barbie game is only suitable for little girls. You will love this game if you're not into horse jumping games. You'll have many tasks to fulfill but jumping won't be on the list!
The game is situated in a riding camp that was recently struck by a storm. Your Barbie rides a horse around this camp to help out the people in need. Sometimes you'll have to look for a lost object, other times you will have to fulfill the job of a track fixer. Other than that, you can also take part in timed horse races. 
The controls might annoy some of the more experienced players. On a PC, you can only use a keyboard which you will eventually get used to, but might not be the most ideal. On top of that, it isn't a hard game. Therefore, the kids will love it. As for the more experienced players, they can finish the whole thing in a day or two. However, since Barbie Horse Adventures is a video game series, you can move on to other similar games after this one.
If you're looking for a free online horse game to experience what an authentic horse owner goes through, My Horse will undoubtedly be your favorite on this list!
In the game's 3D environment, you build a horse farm from scratch. However, the farm is focused more on the care of the animals. Initially, you start the game with one horse that you breed to get more horses. The horses have lifelike needs. Feed them, groom them, train them, and prepare them so that they become worthy of winning in in-game competitions. 
Truthfully, the most unique thing about this game is that you have to put the potential in your horse to perform well. Unlike most horse games, the racing competitions aren't luck-based. Also, all tasks require time. You won't get through the game within days. Instead, you will have to smartly manage time and horse care to advance in the game. 
Get this game on Android, iPhone, or download it for free on your PC. You can play it through Facebook if you're looking for an online option.
This horse game comes as a mobile application. It offers the best graphics for people who want to fulfill their dreamy desires of owning a horse ranch. 
The game doesn't offer the most realistic gameplay, however, it does satisfy an average horse owner's desires. You have the option to breed mythical creatures which are not true to life. But, the fun and creativity are unmatched, especially for younger players.
You'll experience the thrill of owning and maintaining a ranch. Simultaneously, breed horses, take care of their health, and maintain a balanced feeding schedule. While this is the main gameplay, there are numerous mini-games to help you fulfill your main goals. 
Despite an unrealistic approach, there is still a lot you can learn from this game. The responsibility of owning a ranch, differences between different breeds, various health requirements, etc. are something you can gain real-life knowledge from. 
If you connect to the game via your Facebook, you can compete against other friends who play Horse Haven as well. Compare your ranch to your friends', breed your animals with theirs, or simply ask them to help you maintain your ranch with this feature.
FAQs
If you have some questions in mind, the answers to these FAQs will give you all the information you need.
What is the biggest online horse game?
Many online horse games will appeal to you. Some prominent names are Star Stable, Howrse, My Stable, My Horse, Horse Academy, and Horse Haven. 
What you end up choosing is ultimately your call depending on what you prefer in horse games. However, you will easily find a vast variety of games. Some offer a great horse riding experience while others will give you a long list of breeds to explore. You will also find options that give a realistic experience of owning a horse.
What horse games are free?
Horses Puzzle, Farm Valley, and Horse Riding Simulator are some online free horse games. These horse games require no download and can be played without any payment information. Other than these, some of the best free games online for horse lovers are Barbie Horse Adventures, Rival Stars Horseracing, Star Stable, and Riding Club Championship.
Which game has the best horse riding experience?
If you're looking for a horse game that will give you a realistic horseback riding experience, these games will be right up your alley:
– Assassin's Creed Odyssey 
– Red Dead Redemption
– The Last of Us
– The Witcher 3: Wild Hunt
– Battlefield 1
All of these action games aren't mainly horse games. However, each one has parts that offer an exceptional horse riding experience. The remarkable graphics of the game are to be credited for this.
What are fun horse games?
If you're in search of good online horse games with no download requirement, you should consider Star Stable, Howrse, My Horse, Riding Club Championship, and Rival Stars Horseracing. 
Some other high-quality horse games on PC include Red Dead Redemption, Assassin's Creed Odyssey, and The Witcher 3: Wild Hunt.
For physical games that you can play with your horse, go for Horseback Simon Says, Relay Race, Flag Race, or Egg and Spoon. 
How do I play with a horse?
Fun and leisure are a vital part of a horse's routine. There are many ways to play with a horse. For instance, you can go for a bit-less ride. When your horse is learning tricks from you, that is considered playtime too. 
Other than that, cross-training and group rides are also a form of entertainment. Basically, any fun time you spend with your horse where the animal has the freedom to do whatever it wants is quality playtime.
What is horse sport called?
Equestrian sports are all types of sports that involve horses. This also includes horseback riding. Horse sports were introduced in the Olympics in the early 20th century. Equestrian sports fulfill recreational purposes but are also conducted as part of competitions.
Do horses like games?
Horses love to play. You should incorporate some playtime in your horse's schedule for fun and entertainment. Playing with your horse will also help improve your relationship with the animal which in turn will make training easier.
Is dressage cruel to horses?
Dressage can be cruel if it is overused or misused. The purpose of dressage is to promote a healthier relationship between the horse and the rider. This is only possible if the dressage is used correctly for a gentle output. 
Do not use dressage if you're a newbie. Research and learn all the do's and don'ts to avoid any discomfort for the horse. Moreover, avoid dressage completely, if it's not an absolute necessity. It isn't something that is highly recommended due to the high risk of extreme pain.
Is horse riding cruel?
Horse riding is not cruel, but it can be if you aren't considerate of your horse's feelings. Horseback riding has some ethics and rules. The comfort of the horse comes above everything else. If your animal is not well or not in the mood to give you a ride, riding it at that time will be cruel. 
Alongside this, if you want a healthy horse riding experience, you also have to ensure the diet of your horse is well-balanced. Keep a constant check on the animal's health. Use comfortable accessories so the horse has additional support while riding.
Conclusion 
Here you have a detailed overview of the best free games online in the category of horse care and horse racing. You must have found something that sounds entertaining to you. But, the great thing is that you don't have to make a choice. Since these are all free, easily available games, you can start trying out every single one to find out which one your favorite is!
Now, you have the perfect way to spend your time satisfying your love for horses without the constant need for a real horse. Surely, life cannot get any better for an equestrian at this point!